Fanta Día de los Muertos Experience
An omni-channel shopper campaign to reach hispanic shoppers in a culturally relevent & engaging way.
Fanta owns the Halloween occasion, however this holiday doesn't resonate strongly with their US Hispanic shoppers. They needed a targeted, culturally relevant program to activate in the same time period. Dia de los Muertos is an opportunity to celebrate life, heritage and traditions among Hispanic Americans through an engaging omnichannel retail program.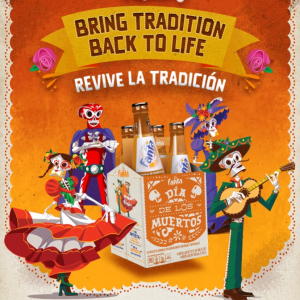 REVIVE LA TRADICIÓN
With a quick scan of a code, our Día De Los Muertos packaging will become an interactive gateway to communicate –virtually- with 1 of 4 icons from Mexican tradition. Our characters will share their stories and traditions with our shoppers, chatting with them and rewarding them right from their phones. By picking up a limited edition Fanta from Mexico & scanning the code on the pack or bottle, shoppers can engage in a celebration like no other. Supported by in-store, digital and social media, this unique 360* pilot program allows Fanta to culturally connect with shoppers in an authentic way.